Medal Collection
|
Surname Search
|
Surname A-Z
|
Men called Wilson
William Wilson
Biography | Medals | Glossary
Biography
Born in 1892 in Gateshead, he was a miner before he enlisted in the 19th (Bantams) Battalion DLI. As a Sergeant, he gained the Distinguished Conduct Medal in February 1917 for commanding his platoon in flooded trenches and under constant fire.
He gained the Bar for his part in a raid on German trenches at Locke on 27 July 1918, when "he kept his party together with great skill throughout the operation and inflicted severe casualties on the enemy, of whom he killed three himself with the bayonet. Although wounded he was the last of his party to leave the enemy trenches".
William Wilson died in 1968, aged 76 years.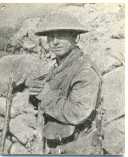 Return to DLI Collections home page.