Medal Collection
|
Surname Search
|
Surname A-Z
|
Men called Wilkinson
Henry Benfield Des Voeux Wilkinson
Biography | Medals | Glossary
Biography
Born in 1870, the son of Major Wilkinson of Oswald House, Durham, he was commissioned as a Second Lieutenant in the 2nd Battalion DLI in 1892 and joined de Lisle's famous Polo team that dominated the game in India in the 1890's.
After 1899, he held a number of appointments outside the Regiment, including Aide de Camp to the Viceroy of India, and he served with the Mounted Infantry in South Africa.
During the Great War, he served on the Staff on the Western Front. He was made a Commander of the Order of the British Empire in 1919 and was awarded the Distinguished Service Order and the Belgian Order of the Crown.
Henry Wilkinson retired in 1922, as a Lieutenant Colonel, and died in 1943.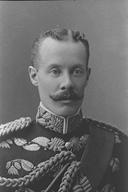 Return to DLI Collections home page.