Medal Collection
|
Surname Search
|
Surname A-Z
|
Men called Mauchlen
Robert Mauchlen
Biography | Medals | Citation

|

Glossary
Biography
Born in Newcastle upon Tyne in 1885, he was commissioned as a Second Lieutenant in the 9th Battalion DLI in October 1914 and served with that battalion until late 1916. He was awarded the Military Cross during the Battle of the Somme on 1 October 1916 for his bravery in an attack near Eaucourt L'Abbaye under very heavy fire. It was in this action that his Commanding Officer, Roland Bradford, gained his Victoria Cross.
For the rest of the War, Robert Mauchlen was at the Army Lewis Gun School. When 9 DLI was reformed in 1920, Major Mauchlen rejoined as a Company Commander, before finally retiring in 1924. He was an architect in civilian life and he designed the wooden Memorial Cross once on the Butte de Warlencourt and now in Durham Cathedral. Bob Mauchlen died in 1972, aged 88 years.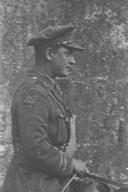 Return to DLI Collections home page.