Medal Collection
|
Surname Search
|
Surname A-Z
|
Men called Marley
Cuthbert David Marley
Biography | Medals | Glossary
Biography
Born in 1898, he was at Durham School when the Great War began. When he left school in July 1915, he joined the Inns of Court OTC (Officer Training Corps) and was commissioned in the DLI. He fought with the 5th Battalion DLI on the Western Front from 1916-18 and, after the war, continued to serve as a Territorial Officer, rising to command 5 DLI. He received the MBE in 1929 and the Efficiency Decoration in 1936.
In 1940, he was given command of the 10th Battalion DLI and was awarded the Distinguished Service Order for his leadership during the German attack on Arras, before the Dunkirk retreat. In 1942, he was made a Brigadier.
In civilian life, David Marley was a director of the Durham Coal Board. He died at Middleton St. George in 1960.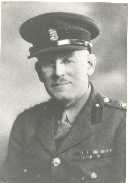 Return to DLI Collections home page.