Medal Collection
|
Surname Search
|
Surname A-Z
|
Men called Dyer
Robert Dyer
Biography | Medals | Glossary
Biography
He enlisted in 1911 and, after training at Fenham Barracks, joined the 2nd Battalion DLI in 1912. He sailed with 2 DLI to France in September 1914 and was promoted to Sergeant in November 1915.
In 1916, he was sent to India to serve with The Northumberland Fusiliers, where he remained until 1922. After a short time with 1 DLI in Germany, he rejoined 2 DLI in India in 1923. He served with 2 DLI on the North West Frontier of India and in China before he retired in 1938 as Orderly Room Quarter Master Sergeant, having served over 20 years abroad.
Robert Dyer died in Leeds in 1956.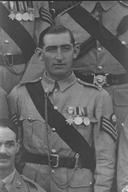 Return to DLI Collections home page.