Medal Collection
|
Surname Search
|
Surname A-Z
|
Men called Crouch
Ernest George Crouch
Biography | Medals | Citation

|

Glossary
Biography
Born in 1873, he enlisted as a Regular soldier in the DLI in 1891 and, after 2 years with the 1st Battalion DLI at Aldershot, joined 2 DLI in India. He served with the Mounted Infantry in the Boer War as a Sergeant and was badly wounded at Lindley on 19 May 1900, when he was the only survivor of a patrol attacked by Boers. In 1903, he was promoted to Colour Sergeant and later was posted as a Permanent Staff Instructor to 9 DLI at Gateshead. In 1913, he became Regimental Sergeant Major of 9 DLI and went with this battalion to the Western Front in April 1915.
He was awarded the Distinguished Conduct Medal for "always displaying great coolness, courage and devotion to duty and giving a fine example to all ranks" and in November 1915 was commissioned as a Second Lieutenant for services in the field. He became Adjutant to 9 DLI and in August 1916 was made second-in-command to Roland Bradford.
In 1917 for a few months he took command of 5 Border Regiment, before being promoted to Lieutenant Colonel and taking command of 9 DLI, which position he held until April 1919. For his services during the Great War, he was awarded the Distinguished Service Order and the French Legion of Honour.
He finally retired in 1923, after 32 years in the Army.
Ernest Crouch died at Gateshead in 1935, aged 61 years.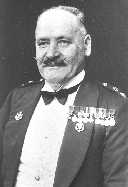 Return to DLI Collections home page.