Medal Collection
|
Surname Search
|
Surname A-Z
|
Men called Borrow
Edward Borrow
Biography | Medals | Citation

|

Glossary
Biography
Born in 1879 in London, he served with the Imperial Yeomanry in the Boer War and re-enlisted as a Trooper in the 2nd King Edward's Horse in August 1914 before being commissioned as a Second Lieutenant in the 13th (Service) Battalion DLI. He fought on the Western Front with 13 DLI and the 10th West Riding Regiment and was wounded at Ypres in 1917 by a bullet in his right hand. He also served with 12 DLI and the 11th Battalion Northumberland Fusiliers in Italy in 1918.
Edward Borrow retired from the Army in 1920.
His only son, Captain George Borrow MC, was Aide de Camp to Major General Orde Wingate, commander of the Chindits, and was killed with him in India in March 1944 in a plane crash.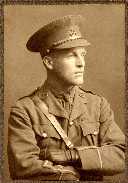 Return to DLI Collections home page.