Medal Collection
|
Surname Search
|
Surname A-Z
|
Men called Thompson
William Douglas Baird Thompson
Biography | Medals | Glossary
Biography
Born in Morpeth in 1895, he first joined the 7th Battalion Northumberland Fusiliers as a Private in September 1914 but was then commissioned as a Second Lieutenant in the 9th Battalion DLI in November 1915. He gained the Military Cross in April 1917 at Arras, when he led a successful attack under very heavy machine gun fire; and was awarded the Distinguished Service Order in March 1918 during the German advance, when he held the line at Bucquoy despite intense attacks. In this defence, out of 5 officers and 117 men of 9 DLI, only Captain Thompson and 17 men survived. In July 1918, on the Marne, he was awarded the French Croix de Guerre for his part in the capture of 85 German soldiers at Cuitron.
After the War, he remained with 9 DLI until he moved to Bridlington, when he transferred to the East Riding Yeomanry.
In 1940, as Commanding Officer of the East Riding Yeomanry, he was captured before Dunkirk and spent the rest of the war as a prisoner.
William Thompson died at Hull in May 1978, aged 82 years.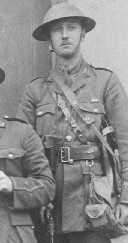 Return to DLI Collections home page.