Medal Collection
|
Surname Search
|
Surname A-Z
|
Men called Ross
Walter Charteris Ross
Biography | Medals | Glossary
Biography
Born in 1857, he was commissioned, from the Militia, as a Second Lieutenant in 1877 and joined the 68th Light Infantry. He first saw action in the Afghan War, 1879-80, as a transport officer. After a time as Adjutant of the 1st Battalion DLI, he served as a staff officer in India. In 1900, he went to South Africa as a Major on the staff of Major-General Hector MacDonald's Highland Brigade. Later he was given command of the 8th Mounted Infantry and at Bothaville, on 6 November 1900, during a surprise attack on De Wet's Boer Commando, his lower jaw was destroyed by a bullet and he nearly died. After his recovery, he was given command of training units and retired, as a Colonel, in 1908.
In November 1914, he was made a Brigadier General and commanded the 1st Highland Brigade on the Western Front from 1915 to 1916. In 1916, he took command of 228 Brigade in Salonika and served in the Balkans until the end of the Great War, retiring in 1919.
Walter Ross died in Cromarty in 1928, aged 70.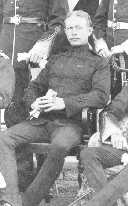 Return to DLI Collections home page.