Medal Collection
|
Surname Search
|
Surname A-Z
|
Men called McMahon
Bernard William Lynedoch McMahon
Biography | Medals | Glossary
Biography
Born in 1865, he was educated at Wellington College and was commissioned as a Lieutenant from the Bedfordshire Militia in 1885. He fought with the 1st Battalion DLI in South Africa and was Mentioned in Despatches. In 1913, as Lieutenant Colonel, he was given command of the 2nd Battalion DLI and in September 1914 took his battalion to France, fighting in the actions at Troyon and Armentieres.
In early 1915, he left 2 DLI to become Commandant of the School of Musketry at Hythe. He retired as a Colonel in 1920.
In 1922, he became equerry to Princess Louise and was made a Commander of the Royal Victorian Order.
Bernard McMahon died in 1928.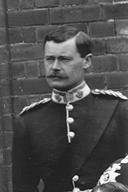 Return to DLI Collections home page.