Medal Collection
|
Surname Search
|
Surname A-Z
|
Men called Hope
William Miller Hope
Biography | Medals | Glossary
Biography
Born in West Auckland in 1882, he joined the 2nd Volunteer Battalion DLI in 1899 and rose to be Regimental Quarter Master Sergeant of the 6th Battalion DLI. He was appointed Quarter Master & Honorary Lieutenant of 6 DLI in 1914 and was the Battalion's Quarter Master throughout the Great War, except for a brief time when he was wounded in 1918.
He was Mentioned in Despatches in 1916 and was awarded the Military Cross in June 1918, as a Captain, for his "conspicuous gallantry and devotion to duty".
William Hope died in 1965.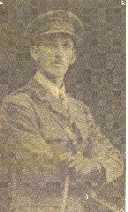 Return to DLI Collections home page.