Medal Collection
|
Surname Search
|
Surname A-Z
|
Men called Gallogly
Patrick Gallogly
Biography | Medals | Glossary
Biography
Born in Ireland in 1907, he was a chemical worker before he enlisted in 1925 in the 2nd Battalion DLI at Middlesbrough. He saw active service in 1930 on the North West Frontier of India against the Mahsuds and was wounded.
He joined the Reserve in 1933 but was recalled in 1939. Captured in 1940 with 2 DLI in France, he spent three years in German POW camps before escaping. He then rejoined the Army and fought in France and Germany from October 1944 to early 1945.
Discharged from the Regular Army in 1950 as a Colour Sergeant, he immediately joined the Territorial Army, finally retiring in 1961, after 36 years service.
Patrick Gallogly died in 1976.
This photograph was taken in a German POW camp.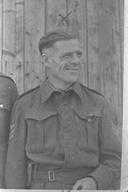 Return to DLI Collections home page.