Medal Collection
|
Surname Search
|
Surname A-Z
|
Men called Dean
George Chambers Dean
Biography | Medals | Citation

|

Glossary
Biography
Born in Washington, County Durham, in 1915 he was a shipyard worker in Sunderland, when he joined the DLI Territorials in 1931.
In May 1940 near Meteren, whilst serving with the 11th Battalion DLI as part of the BEF (British Expeditionary Force), he was awarded the Military Medal for his "determination and personal disregard for danger".
He later served with 11 DLI in Iceland and finally, in 1942, transferred to REME (Royal Electrical & Mechanical Engineers).
"Dixie" Dean died in 1991.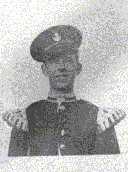 Return to DLI Collections home page.