Medal Collection
|
Surname Search
|
Surname A-Z
|
Men called Dale
Edwin Dale
Biography | Medals | Glossary
Biography
Born in Sunderland in 1878, he was a shipyard worker before he enlisted as a Regular soldier in the DLI in 1897. He served throughout the Boer War as a Private in the 1st Battalion DLI and was discharged as medically unfit in 1902.
He re-enlisted in 1915 and served with the Royal Field Artillery on the Western Front. He was wounded, Mentioned in Despatches and awarded the Military Medal for bravery in 1918. He was discharged with the rank of Sergeant in 1921. The photograph shows Edwin Dale as a young soldier in the DLI.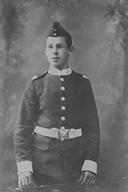 Return to DLI Collections home page.