Medal Collection
|
Surname Search
|
Surname A-Z
|
Men called Blenkinsop
Thomas Blenkinsop
Biography | Medals | Glossary
Biography
Born in 1913, he was a miner before joining the DLI as a Regular soldier in 1934. He served for 22 years in India, Sudan, China, Egypt, Europe, the Far East, Korea and in the UK, before being discharged as a WO2 (Permanent Staff Instructor) of the 8th Battalion DLI at Gilesgate in Durham in 1956.
During the Second World War, he served as a Sergeant with the 1st Battalion DLI and won the Military Medal on 7 December 1941 during a night attack on Italian positions dug-in on an escarpment south of Tobruk, North Africa, when he took over command of "C" Company, after the officer had been killed, capturing the position and 50 Italian prisoners.
During the Korean War, he served with The King's Shropshire Light Infantry. He rejoined the DLI after Korea and was awarded the Long Service and Good Conduct Medal in 1956.
Thomas Blenkinsop, who lived in Witton Gilbert, near Durham City, died in January 1992.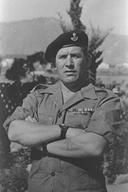 Return to DLI Collections home page.