Medal Collection
|
Surname Search
|
Surname A-Z
|
Men called Blackbourne
Charles David Blackbourne
Biography | Medals | Glossary
Biography
Born in Hull in 1921, he enlisted as a Boy in August 1937 and was posted to the 1st Battalion DLI in Shanghai, China, just two months later. During the Second World War, he fought with 1 DLI in Egypt and took part in May 1941 in the battle at Fort Capuzzo near Tobruk. He later served on Malta during siege.
In 1944 he was posted to 4 Infantry Training Centre at Brancepeth Castle and saw no further active service with the DLI. He did, however, serve with The King's Own Yorkshire Light Infantry in Malaya. He finally retired in 1963 as a Company Quarter Master Sergeant.
Charles Blackbourne died in 1993.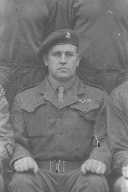 Return to DLI Collections home page.