Medal Collection
|
Surname Search
|
Surname A-Z
|
Men called Houston
Anthony Houston
Biography | Medals | Citation

|

Glossary
Biography
Anthony Houston enlisted as a Private in the 20th (Wearsiders) Battalion DLI at Sunderland in August 1915. He was awarded the Distinguished Conduct Medal (DCM) as a Sergeant on 31 July 1917 near Ypres - "Having led a bombing attack on an enemy sniping post with his company commander, all the party except himself were killed, whereupon he organised a second party...When all these men had been killed, he organised a third party and successfully bombed the enemy... He set a fine example of fearlessness and initiative.." (Citation)
Anthony Houston was hospitalised three times during his service, gas injury, shrapnel in the thigh and gunshot wounds to chest, back, spine and arms. After the war, he returned to glass blowing in Portobello Lane, Sunderland.
He married Katherine Boag (Kate) and had two daughters Vera and Hilda. He then became a grandfather to four, who he adored. He is remembered as being cheery, easy-going and always whistling to himself, a constant smoker, even after his trench experiences.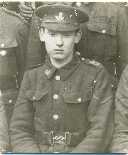 Return to DLI Collections home page.