Medal Collection
|
Surname Search
|
Surname A-Z
|
Men called English
Ian Roger English
Biography | Medals | Citation

|

Oral History

|

Glossary
Biography
Born in Heworth, County Durham, in 1919, the son of a mining engineer who had served in the DLI in WW1, Ian English joined the 8th Battalion DLI in 1938. During WW2, only 24 soldiers were awarded the Military Cross three times, Major Ian English was one of these men. He first fought in France in 1940, where he was Mentioned in Despatches. In 1942 in the Western Desert, he led his men with 'skill and dash' and 'set a fine example of leadership' and was awarded the MC twice. In March 1943, he was taken prisoner at Mareth but he escaped from his Italian POW camp that September and, evading capture, walked 300 miles down the mountainous spine of Italy to freedom. Rejoining 8 DLI, he landed on D-Day and won his third MC in Normandy in August 1944. A long-serving Trustee of the DLI Museum, Ian English died in March 2006.
Memorial Service for Major Ian Roger English MC, TD
Durham Cathedral - 10th July 2006
We have come together today to give thanks for and to celebrate the life of Ian English. As friends we knew him simply as 'Ian' - a very special gentleman with a ready smile, a lovely sense of humour, charming in company, and truly modest about his achievements. He was a loving and devoted husband, father and grandfather and a gallant and loyal soldier. It is a great privilege to have been asked to pay this tribute and to outline the life of this remarkable man.
Ian was born on 18th June 1919 to John and Beryl English. His father was a mining engineer and manager of Heworth Colliery in the North of this County. He was a Major in the TA and went to France in 1915 as 2i/c of the 9th Battalion DLI where he fought in the 2nd Battle of Ypres. After attending school at Scarborough, Ian was a student at Oundle School, near Peterborough, from 1933-38.
In the child we can get a glimpse of the man. His House Master remembered him as a fine student who eventually became a successful Head of House and in his final term Head of School. He remembered Ian as an admirable leader.
He was Captain of the School Shooting VIII, which won a number of contests at Bisley. He captained the School Hockey Team and he was an under officer in the School OTC.
In 1938, he was leading his fellow students. In 1939 he was commanding men, many older than himself. He was commissioned into 8 DLI in January 1939, and commanded the Carrier Platoon in France in 1940 where, under his skilful and courageous leadership, it performed prodigious feats of arms. At Warlus, near Arras, on 21st May, he held his platoon together as it faced superior German forces and the frightening first experience of being dive bombed by Stukas. At Carvin two days later, sent to assist French forces holding the town, his carriers held the south-western outskirts of the town throughout the day, a task made all the more difficult by the disappearance of the French on his flanks. He found himself holding an isolated position. Later in the day, when 8 DLI entered the town, Ian and his soldiers were still holding on. Throughout the withdrawal to Dunkirk, he and his carriers covered the rear of the Battalion.
Lt. Col. Ross McLaren, his Commanding Officer wrote:
'Ian English proved himself to be a first class fighting officer. His dash, steadiness and courage were magnificent. I put him in for a decoration. He was outstanding.'
He was recommended for a Military Cross but was actually Mentioned in Despatches.
He was still commanding his Carriers, in the Gazala Line in the Western Desert from late February to June 1942. On 5th June he attacked a superior enemy force and destroyed a number of vehicles, one tank, and 20 Italian officers and 210 Other Ranks were taken prisoner. Ian was severely wounded but he refused to go back for treatment until he had reported to his Battalion CO. He was recommended and received a Bar to his MC. (I must point out that Ian received his MC for Alamein, some 5 months later - evidently his MC recommendation went through the system ahead of the recommendation for the Gazala action, which was announced three weeks later. Some delayed paperwork possibly)
Whilst he lay in hospital, Ian received a letter from Lance Sergeant Hill, a member of his Carrier Platoon, part of which reads:
"Before I go any further with this letter let me repeat the prayer of every single man of 'S' Company. Yes, and the MT and the remainder of the Battalion who know you. Their daily prayer is, 'I wish Captain English would come back to the Battalion.' And believe me, there is no two ways about them meaning it or not, so try to hold your prestige with them. Yes, Sir, your name is frequently on the lips of the old members of the Battalion."
This is the true quality of leadership - to hold the respect, loyalty and affection of your soldiers who would willingly follow you anywhere. He would never ask them to do anything he was not willing to carry out himself; he always led from the front. In October 1942, Ian received a Commander-in-Chief's Commendation signed by General Alexander, C in C Middle East Forces, which recognised his gallantry and devotion to duty.
On his return to the Battalion in October 1942, Ian was given command of 'C' Company. During the Battle of Alamein and Operation Supercharge on the night 1st/2nd November, he led his Company forward through intense enemy fire, encouraging his men and attacking, sometimes personally, enemy positions on the way. When the final objective was reached, 'C' Company found themselves alone and isolated. The other attacking companies were pinned down at some distance to the rear. Throughout the 2nd November, with casualties mounting, 'C' Company held its position. Constantly moving about the position, in the open, with German tanks about 150 yards ahead, Ian rallied his men and encouraged them to hold on. He was very concerned about his wounded, many of whom were lying in the open suffering terribly from the intense heat and the flies. Later in the day, his Company was ordered to withdraw. Ian skilfully organised a withdrawal of his platoons under the very noses of the enemy but he refused to leave the wounded. For a further one and a half hours, with his devoted batman Pte. Cawley, he lay watching the enemy awaiting any attack. Miraculously this did not occur and vehicles arrived to carry both of them, and the wounded away, to safety.
'For his considerable skill, leadership and courage, Ian was awarded the MC.'
On 23rd March 1943 Ian was captured at the Battle of Mareth. This immensely powerful defensive structure, a labyrinth of trenches and concrete pillboxes, covered by the wadi, an anti-tank ditch and an extensive minefield was attacked frontally by 151 Brigade. Enemy defensive fire was so severe that sappers could not open a way through the minefield. Ian led his company through the minefield in column of threes, fortunately suffering few casualties, and took his objective. After three days of heavy fighting, the company was driven back to the wadi. Seeking contact with any units who may have been on his flank, Ian ran into a party of Germans and was captured. Ultimately he arrived at prison camp PG 49 - Fontenallato, Northern Italy. Following the surrender of the Italians on 8th September 1943, Ian and his small party walked down the spine of Italy, through the German lines and rejoined the British. It was a walk of over 500 miles and took some three months. The walk is fully described in his book, 'Assisted Passage'.
It was the beginning of a lifelong respect for the 'contadini', the Italian hill peasants who risked their lives to conceal and assist escaping prisoners. Ian was a founder member of the Monte San Martino Trust formed in 1989 to raise funds for the education of the children and grandchildren of these brave peasants.
Back in England Ian refused the position of training officer and insisted on returning to his Battalion before D Day. He was given the command of 'D' Company. In Normandy, he and his company were involved in fierce fighting, particularly in the village of St. Pierre near Tilly sur Seulles. His company took its objective and held it until ordered to withdraw, much to his disbelief as he felt they held the upper hand. At Le Plessis Grimault in August 1944, the approaches to the start line for the attack, which was launched from here, was under heavy enemy shelling and mortaring. Casualties were incurred. Ian's citation read:
'Major English moved amongst his men, completely exposed and showed an absolute disregard to the fire and got them onto the start line. During the advance he was in front leading his men and encouraging them on through the enemy artillery and mortar fire. On the way, 'D' Company took over 50 prisoners.'
Ian was recommended for an immediate DSO, signed by senior officers up to the rank of General Officer Commanding 2nd Army. He was actually awarded a second Bar to his MC, one of only 24 officers awarded an MC and two Bars out of a total of nearly 11000 awarded during World War II.
The pursuit of the German Army continued into Belgium until in September 1944 at Gheel, attempting to form a bridgehead over the Albert Canal, Ian was wounded once more. It was the end of his fighting war. When he recovered he rejoined the Battalion in April 1945. He was demobilised in 1946 but continued to serve as a Territorial with the Battalion until he retired in 1961. He had been 2 i/c of the Battalion, though living and working in Cheshire. On two occasions he had been offered command of the Battalion but he chose to put his wife and young growing family first and refused these offers.
Such is the remarkable story of Ian the soldier ¿ arguably one of the finest company commanders produced by the British Army in World War II.
What of Ian in peacetime?
After the war, Ian enrolled at Selwyn College, Cambridge reading Agriculture. On obtaining his degree, he commenced employment with Fisons Ltd. as an Agricultural Adviser, a position he held until his retirement in 1979.
In 1949 he married Lise Pagh Petersen, a young lady from Denmark whom he first met on a ferryboat on her way to England where she was working whilst improving her English language. They were to remain a loving and devoted couple for the next fifty-seven years. Ian and Lise raised a family of four children, two girls and two boys. Their youngest son, David, died tragically at the age of 16. We cannot imagine the trauma the family, parents and children, must have suffered and the great strength they drew from their love of each other to enable them to rebuild their lives. They also have five grandchildren. The children remember a loving father who always had time for them as they grew up. The stories he read to them, particularly 'Winnie The Pooh' and 'House on Pooh Corner' with a voice that changed for each character.
Ian had a lifetime's interest in Ornithology and was expert in this field. - when in the desert he kept extensive notes on the birds of the Middle East. From the very beginning of their relationship, Lise was dragged off to wild parts of the country to lie on damp ground to catch the sight of some interesting species. Fortunately, she too gained a great interest in this activity. He also kept bees and there are affectionate family memories of bee stings to his face and sticky kitchen floors when extracting the honey. At family picnics he amazed his children by eating his food lying flat on his back without choking. Ian and Lise also shared a love of gardening and the beautiful landscape and coast of his native North-east. He was a lifetime supporter of Sunderland Football Club whom he had watched as a boy from the terraces of Roker Park in the 1930s.
On moving to Preston under Scar some eighteen years ago he took a real interest in the life of this lovely village, serving on the Parish Council and becoming Clerk to that council. Though retired from the TA he continued to serve his ex comrades as a Trustee of the Regimental Museum, as a member of the Friends of the DLI Museum and President of the Chester-le-Street DLI Old Comrades Association.
He never turned down a request for assistance from old members of the Regiment or those from their families. He co-authored the definitive history of 8 DLI in World War II - 'Into Battle With The Durhams' and his own escape from Italy - 'Assisted Passage'. He edited the stories of fellow officers who had escaped from PG 49 - 'Home By Christmas' and co-authored the experiences of DLI prisoners of war in World War II entitled 'For You Tommy The War Is Over.' - which we hope will be published in the late autumn.
Ian will always be remembered for his great modesty. I interviewed him about 20 years ago for the Imperial War Museum Sound Archives Department. In 12 hours of recording, I don't think he used the personal pronoun 'I' more than two or three times. In each action recorded he almost always spoke of 'we' or 'they'. Writing home to his parents on his award of the MC at Alamein he said:
'I got it for the attack we did in the northern sector on the night of 1st/2nd November. The Company was grand and really won the decoration.'
He was so disappointed when more members of his company failed to receive decorations.
And then there was his sense of humour. We, his friends often experienced it. You will all have your own memories of his humour. Ian loved a party and revelled in the role of host. If he could find a way to pull your leg he would. He thought it a poor show if someone had no sense of humour.
Central to his life were his Christian beliefs, strong and a great comfort to him and these made him a very tolerant man who believed fervently in freedom of speech, combined with responsibility. He disliked prejudice and injustice.
Ian suffered a stroke just before Christmas 2004. Thereafter he had good periods when there was much hope of some measure of recovery. But there were setbacks with periods of pain and much discomfort. His loving and devoted wife, Lisa, was at his side and supported and nursed him during his long illness. An illness he bore with the same fortitude and courage he had often displayed standing up in the lead carrier racing across the desert followed by his loyal carrier platoon in many attacks against enemy columns; the same courage and devotion he showed when he stayed behind with the wounded at Alamein and the same courage as he led them through the bombs and shells in Normandy.
Ian is now with the God who protected him through many dangerous times. He is at peace and he has left behind a legacy of courage, modesty, loyalty and love. His life touched all of us here, and many others, in many ways. We thank God for his life. God Bless You Ian.
Written and delivered by Harry Moses, 10th July 2006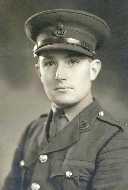 Return to DLI Collections home page.