Medal Collection
|
Surname Search
|
Surname A-Z
|
Men called Maughan
Francis Alfred Collingwood Maughan
Biography | Medals | Glossary
Biography
Born in 1918, both his father and brother served in the Regiment. After he was commissioned in 1940, he joined the 1st Battalion DLI in North Africa and was Adjutant both on Malta and during the disastrous operations on Cos in 1943, when he was one of the few to escape from the island. Demobilised in 1945 as a Major, he eventually became Director of the Birmingham Assay Office.
Francis Maughan died in Suffolk in 1983.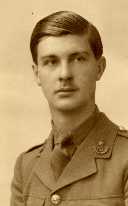 Return to DLI Collections home page.