Medal Collection
|
Surname Search
|
Surname A-Z
|
Men called Shea
Joseph Patrick Lambert Joey Shea
Biography | Medals | In Memoriam

|

Glossary
Biography
Born in 1873, the son of Quartermaster William Shea of the 68th Light Infantry, he enlisted as a Regular soldier the 1st Battalion in 1891. He fought in the Boer War and was awarded the Distinguished Conduct Medal, as Colour Sergeant of "K" Company, when he was the first man up Vaal Krantz during the attack on 5 February 1900.
He was made Regimental Sergeant Major of 2 DLI in 1911 and then Quartermaster in 1914. He served with 2 DLI on the Western Front from 1914 to 1917 and was promoted to Captain in 1917.
On 30 November 1917, during the Battle of Cambrai, the Germans launched a massive counter attack and threatened to break through at Gouzeaucourt, which was only held by the 18th Brigade's transport and some of 11 DLI's Pioneers. Captain Shea, senior QM of 18 Brigade, immediately organised a defence using all available men - storemen, cooks, tailors and shoemakers - and held on until relieved by the Guards Brigade.
In the fighting, Captain Shea accounted for some nineteen Germans with his revolver before he was mortally wounded. He died the next day, aged 44 years.
Joseph Shea is buried in Rocquigny-Equancourt Road British Cemetery, Manancourrt. He left a widow, Ada, back home in Hove, Sussex.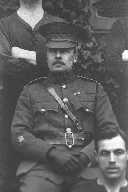 Return to DLI Collections home page.