Medal Collection
|
Surname Search
|
Surname A-Z
|
Men called Bradford
Roland Boys Bradford
Biography | Medals | Citation

|

In Memoriam

|

Glossary
Biography
Born at Witton Park, Durham on 23 February 1892, he was educated at Darlington Grammar School and Epsom College. He was commissioned in the 5th Battalion DLI in 1910 and joined the 2nd Battalion DLI in 1912 as a Second Lieutenant. His career during the Great War was remarkable, rising from Lieutenant in 1914 to Brigadier General in 1917, when at 25 years old he was the youngest General in the British Army. During the War he served with 2 DLI, 7 DLI and commanded the 9th Battalion DLI for over a year. He was awarded the Victoria Cross for his bravery at Eaucourt l'Abbaye on 1 October 1916, whilst commanding 9 DLI. Promoted to Brigadier General on 10 November 1917, he was killed by a German shell on 30 November near Bourlon Wood and was buried at Hermies British Cemetery. He was 25 years old.
In 1918 Sir Douglas Haig, Commander in Chief, wrote "I knew Bradford quite well and had personally followed his career with interest..... He was an officer of outstanding talent and personality..... exceptionally young but particularly capable. His death was a great loss to the Army and I and all who had known and served with him deeply deplore it."
Roland Bradford was one of the "Four Fighting Bradfords". Of his brothers - James died of wounds in 1917, George won a posthumous VC at Zeebrugge in 1918 and only Thomas survived the Great War.
Books
1. "Brigadier General R B Bradford VC MC & His Brothers", author not known. Reprinted by Ray Westlake, Newport. ISBN 1 871167 24 8
2. "The Fighting Bradfords", Harry Moses, County Durham Books, 2003, ISBN 1 897585 756
3. "Beyond Praise. The Durham Light Infantrymen who were awarded the Victoria Cross" by Stephen D Shannon, 1998, ISBN 1 897585 44 6. This has a foreword by Richard Annand VC.
Extract from "Beyond Praise" - One evening in July 1917, whilst in reserve resting after the Battle of Arras, Roland Bradford had ordered his Battalion on parade. He then told the assembled soldiers - "I want you to sing the hymn the band will now play, every night at retreat, whether you are in the trenches or in billets." The band then struck up 'Abide with Me'. It became the Battalion's hymn and was soon adopted by the entire Regiment.
In December 1917, just a few weeks after they had learnt of Bradford¿s death, the 9th Durhams left the horrors of the Ypres Salient and moved into billets. That night, after 'Last Post' was sounded, came 'Abide with Me'.
A soldier newly arrived in the Battalion sneered "What¿s this? A bloody Sunday School!"
He was immediately punched to the ground by Private Bobby Davidson, a veteran soldier wearing the ribbon of the Military Medal, who told him "That hymn was taught to us by a better bloody soldier than you will ever be."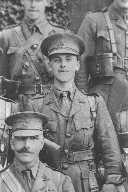 Return to DLI Collections home page.