Medal Collection
|
Surname Search
|
Surname A-Z
|
Men called Roberts
William John Roberts
Biography | Medals | Glossary
Biography
Bill Roberts was born in Tonypandy, South Wales, in 1918. He was called up in September 1939 and joined the 8th Battalion DLI. In May 1940, 8 DLI counter-attacked the German Panzers at Arras and, in the confused fighting, Private Roberts was taken prisoner. He was first sent to a Prisoner of War camp at Thorn in Poland and then to a small farm camp.
On 21 September, he escaped with Corporal Tony Bainbridge, also from 8 DLI, and a Green Howard and began the long, dangerous journey back home. Travelling by night, hiding by day, the three eventually met with the Polish underground and were given shelter, food, clothes and money. Finally, in February 1941, they crossed the Soviet Russian frontier and were immediately imprisoned. Only when Russia entered the war were they released on 8 July 1941 and sent home.
All three men were awarded the Distinguished Conduct Medal for this remarkable escape. After the war, Bill Roberts joined the Prison Service and worked in Durham until his retirement in 1982.
He died on 3 October 1994.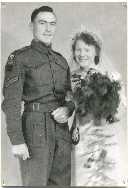 Return to DLI Collections home page.