Medal Collection
|
Surname Search
|
Surname A-Z
|
Men called Spencer
Douglas Spencer
Biography | Medals | Glossary
Biography
Born in 1896 at Hull, he enlisted in 1915 and served during the First World War with the Northumberland Fusiliers. In 1921, he re-enlisted, as a Regular soldier, in the DLI and served both in the 1st and 2nd Battalions at home and in India.
In 1937, he joined 5 DLI (a TA unit), which in 1938 became a searchlight unit of the Royal Artllery. In 1941, he was commissioned as a Lieutenant and Quartermaster and served overseas with 37 Light Anti Aircraft Regiment, Royal Artillery, in the 8th Army.
After the war, Captain Spencer was Quartermaster and Adjutant of 18 (Hartlepool) Durham Home Guard.
He died at Hartlepool in 1985.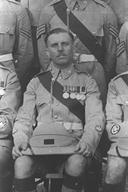 Return to DLI Collections home page.