Medal Collection
|
Surname Search
|
Surname A-Z
|
Men called Sladden
Henry Sladden
Biography | Medals | Glossary
Biography
Born in Kent in 1826, he enlisted in the 68th Light Infantry in 1845. He was recommended for the Victoria Cross for his bravery in the Crimea, when in October 1854 he carried loose charges from a magazine to a battery under heavy fire and on 11 May 1855, during a Russian sortie, when he assisted Captain Hamilton in driving back the Russians from the 68th LI's positions. He did not receive the VC but was awarded the Distinguished Conduct Medal and the French Legion of Honour.
In 1860, he became the 68th LI's Quartermaster and served in the New Zealand War. In 1873, he moved to the 3rd Brigade Depot at Sunderland and then to the North Durham Militia, finally retiring as a Major and Quartermaster in 1881. Henry Sladden died in 1907 and is buried in Sunderland.
This photograph of Henry Sladden (part of a group of soldiers from "L" Company 68th LI) was taken by Roger Fenton in April 1855 in the Crimea. Sergeant Sladden is wearing his Distinguished Conduct Medal awarded in October 1854. This is possibly the earliest known photograph of a soldier wearing the DCM.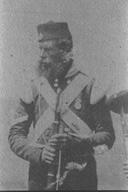 Return to DLI Collections home page.