Medal Collection
|
Surname Search
|
Surname A-Z
|
Men called Pease
Herbert Ernest Pease
Biography | Medals | Glossary
Biography
Born in 1889 in Dunedin, New Zealand, he was commissioned in September 1914 as a Temporary Second Lieutenant. He served with the 12th (Service) Battalion DLI during the Great War and was awarded the Distinguished Service Order in early July 1916 for his leadership of "D" Company in the attack on Bailiff Wood, near La Boisselle, Battle of the Somme.
In December 1916, he became a Regular Officer and was promoted to Captain. After the Great War, he was employed with the Egyptian Army and, from 1925, was attached to the Sudan Defence Force.
He retired, as a Major, in 1929, but remained in the Sudan as a civil servant. He was awarded the Egyptian Order of the Nile in 1931.
Herbert Pease died in 1960.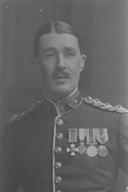 Return to DLI Collections home page.