Medal Collection
|
Surname Search
|
Surname A-Z
|
Men called Lowe
William Henry Lowe
Biography | Medals | Glossary
Biography
Born in Crook in 1885, he started work as a miner at the age of twelve. In 1902, he joined the 2nd Volunteer Battalion DLI and after two years enlisted in the Regular Army. After serving with the 2nd Battalion DLI, he was posted, in 1908, to 1 DLI in India. He served with this battalion until 1940.
During the Great War, he was Regimental Sergeant Major but took over as Quartermaster from Joseph Freel in 1919. By 1939, he had risen to the rank of Lieutenant Colonel and Quartermaster.
When 1 DLI left China for Egypt in early 1940, Colonel Lowe became QM of General Wavell's Headquarters in Cairo, where he remained for the rest of the Second World War.
He finally retired in 1946 but immediately became the Secretary of the DLI Association. During his long career, he was awarded the Meritorious Service Medal in 1920 and was made an Officer of the Order of the British Empire in 1934.
Harry Lowe died in Durham in 1972, aged 86 years. His obituary described him as "a truly great son of the Regiment".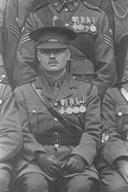 Return to DLI Collections home page.