Medal Collection
|
Surname Search
|
Surname A-Z
|
Men called Leather
Kenneth Mark Walters Leather
Biography | Medals | Glossary
Biography
Born in 1910, the son of Colonel K.J.W. Leather, late DLI, he was educated at Wellington College and Sandhurst. He was commissioned as a Regular officer in 1930 and joined the 1st Battalion DLI at Catterick. In 1937, he joined the Sudan Defence Force and fought in Abyssinia from 1940-41 against the Italians.
In late September 1943, he rejoined 1 DLI on the island of Cos, off the coast of Turkey, just a few days before 1 DLI was overwhelmed by German invaders. On 3 October, he was badly wounded by a mortar bomb and was taken prisoner whilst in hospital.
He was imprisoned in several camps before he was sent to Oflag 79, near Brunswick. This camp was not liberated by the Allies until 11 April 1945.
For his work on Cos, he was awarded the Military Cross in 1945. After the war, he was promoted to Lieutenant Colonel and commanded 2 DLI, as its last Commanding Officer, from 1952-55, before he finally retired in 1959.
In his retirement, he devoted himself to riding and became Joint Master of the North Northumberland Hounds.
Mark Leather died at Berwick in 1966, aged 56 years.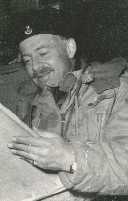 Return to DLI Collections home page.