Medal Collection
|
Surname Search
|
Surname A-Z
|
Men called Johnson
Herbert Johnson
Biography | Medals | Glossary
Biography
In 1914 he was a student teacher at Bede College in Durham and a Private in the Bede College Company of the 8th Battalion DLI. In 1915 he was commissioned and became Adjutant of 2/8 DLI - a training unit. In 1917 he joined 9 DLI on the Western Front and in May 1918 was awarded the Military Cross for taking control of four machine guns at a critical moment. In September 1918 he won his Bar, whilst leading his Company in an attack that captured 85 Germans and 9 machine guns.
After the war he became a head teacher of a village school in Lincolnshire. In 1939, though then 47 years old, he wrote to the War Office requesting an appointment and was posted to the Pioneer Corps.
He served with the British Expeditionary Force in 1940, escaping through St. Nazaire, and was later given command of a Swaziland Company of Pioneers, serving with them in North Africa and Italy. He was Mentioned in Despatches in 1943 and was made an Officer (Military Division) of the Order of the British Empire (OBE) in 1945.
Herbert Johnson died at Peterborough in 1984, aged 92 years.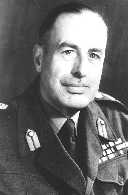 Return to DLI Collections home page.