Medal Collection
|
Surname Search
|
Surname A-Z
|
Men called Hogbin
John William Mark Hogbin
Biography | Medals | Glossary
Biography
He enlisted in 1924 and served with the 1st Battalion DLI in Northern Ireland, Egypt and China before WW2. From 1940-41, he saw action with 1 DLI in North Africa. In 1942, he was posted to 2 DLI in India and was promoted to Regimental Sergeant Major. He was Mentioned in Despatches in 1945 for his gallantry in Burma.
He retired from the Regular Army in 1946 and joined the Army Department Constabulary, rising to the rank of Chief Inspector. He was awarded the Police Long Service Medal in 1968, before finally retiring in 1969.
Bill Hogbin died in 1979 at Darlington.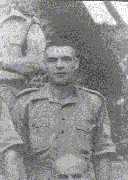 Return to DLI Collections home page.