Medal Collection
|
Surname Search
|
Surname A-Z
|
Men called Greenwell
William Basil Greenwell
Biography | Medals | Glossary
Biography
Born in 1881 in Durham, he joined 4th (Militia) Battalion DLI before he transferred to the Regular Army in 1901 and fought with the 1st Battalion DLI in South Africa. He was in India with 1 DLI when the Great War began, but in 1916 he was promoted to Major and given command of the 19th (Service) Battalion DLI in France. He was badly gassed in 1917 at Ypres. He was awarded the DSO in 1918 and promoted to Brevet Lieutenant Colonel.
After the war, he served in Aldershot and from 1925-29 commanded the Royal West Africa Frontier Force in Nigeria. He was made a Commander of the Order of the British Empire (CBE) in 1929 for his work in Africa. From 1930-33, he commanded 1 DLI and then the 15st Brigade, until he retired as a Colonel in 1937. During the Second World War, he organised the ARP (Air Raid Precautions) in County Durham. After the war, he returned to farming at his home at Greenwell Ford, Lanchester. William Greenwell died in Durham in 1964, aged 83 years.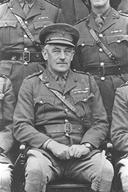 Return to DLI Collections home page.