Medal Collection
|
Surname Search
|
Surname A-Z
|
Men called Bush
John Ernest Bush
Biography | Medals | Glossary
Biography
Born in 1858 and educated at Clifton College, he was commissioned, from the Militia, as a Second Lieutenant in the 106th Bombay Light Infantry in 1880. He fought in Egypt with the 2nd Battalion DLI at the Battle of Ginnis in 1885 and served in the Boer War in 1902 as Garrison Adjutant at Orange River.
He was given command of 2 DLI from 1906 to 1910 and was made a Brigadier General in 1914. He commanded the York and Durham (150th) Brigade during the 2nd Battle of Ypres in 1915 until January 1916. He was awarded the Order of the Bath in 1916 and retired from the Army in 1917.
John Bush died in 1943, aged 85 years.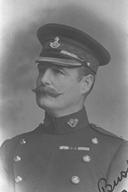 Return to DLI Collections home page.