Medal Collection
|
Surname Search
|
Surname A-Z
|
Men called Brooks
William Charles Brooks
Biography | Medals | Citation

|

Glossary
Biography
Born in May 1901, he served in The Royal Navy during the Great War, from 1917 to 1919, before enlisting in the 2nd Battalion DLI in 1922 at Fenham Barracks. On 12 July 1930, in hills near Tauda China on the North West Frontier of India, Corporal Brooks won the Military Medal for bravery. This was the only Military Medal awarded in 1930.
On that day, he was in command of 4 Platoon, "A" Company, when it came under heavy fire from Mahsud tribesmen hidden on a hill. The platoon charged and cleared the hill but again came under fire, losing one man killed and several wounded.
During the Second World War, he served with 2 DLI at Dunkirk and in Burma before retiring in 1945 as Regimental Sergeant Major.
"Barney" Brooks died in 1981 at Farnham.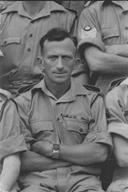 Return to DLI Collections home page.