Medal Collection
|
Surname Search
|
Surname A-Z
|
Men called Bedford
John Thomas Bedford
Biography | Medals | Glossary
Biography
Born in Worksop in 1916, he was a butcher before he enlisted at Shrewsbury in 1940. He served with the 9th Battalion DLI in North Africa and Sicily and from D-Day to Berlin. He was wounded at the Battle of Mareth in North Africa in March 1943 and later rejoined 9 DLI in Sicily. He was awarded the French Croix de Guerre in April 1945 for his "bravery in action". He was discharged in 1946 as a Company Sergeant Major.
John Bedford died in Worksop in 1981.
This photograph was taken during the presentation of his Croix de Guerre.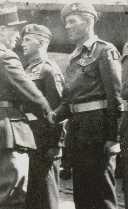 Return to DLI Collections home page.