Medal Collection
|
Surname Search
|
Surname A-Z
|
Men called Applin
Augustin Oliver Applin
Biography | Medals | Glossary
Biography
Born in August 1836 in Devonport, he joined the 68th Light Infantry in November 1857 as Assistant Surgeon and served with them in New Zealand from 1864 to 1865, including the Battles of Gate Pah and Te Ranga. He was Mentioned in Despatches for his work.
He left the 68 LI in 1865 and later became a Surgeon Major in the Army Medical Department. Augustin Applin died in 1874 whilst still serving in the Army.
In January 1864 the 68th Light Infantry, including 200 Crimean War veterans, landed in New Zealand, where the Maoris had gone to war to try to halt the spread of the British settlements on North Island.
In April 1864 British sailors and soldiers attacked Gate Pah (a Maori fort), whilst the Durhams, led by Colonel Greer, waited to prevent any escape. Despite an artillery bombardment the attack failed and the British were driven off with heavy losses. During the night the Maoris slipped away past the Durhams.
In June the British discovered a Maori force building a new pah at Te Ranga and stormed the unfinished defences. In the ferocious hand-to-hand fighting John Murray killed several Maori soldiers and saved John Byrne VC from certain death. Sergeant Murray was later awarded the Victoria Cross. This was the last major battle fought by the Durhams in New Zealand.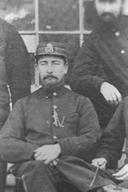 Return to DLI Collections home page.