Medal Collection
|
Surname Search
|
Surname A-Z
|
Men called Self
George Henry Self
Biography | Medals | Glossary
Biography
Born in 1920, in 1939, after serving with the 2nd Battalion DLI, he was transferred to 8 DLI and fought in North Africa, Sicily and Normandy.
In September 1944, when "A" Company 8 DLI led the crossing of the Albert Canal near Gheel in Belgium and all the officers were killed or wounded, Sergeant Self took command, captured several prisoners and held on to the objective despite being heavily counter attacked.
Two days later, as "A" Company was advancing across open country, it was overrun by German tanks and infantry. Once again, Sergeant Self - "an inspiration to all those around him by his complete disregard for his own personal safety" - took command and rallied the survivors. For his gallantry and leadership at Gheel, he was awarded the Distinguished Conduct Medal.
After the war, he worked as a maintenance engineer in a colliery. Later he was appointed the Sergeant Major Instructor to the Durham School Junior Training Corps.
George Self, who lived in one of DLI Cottages in Durham, died in May 1994, aged 74 years.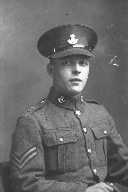 Return to DLI Collections home page.