Medal Collection
|
Surname Search
|
Surname A-Z
|
Men called Mason
William Cecil Mason
Biography | Medals | Glossary
Biography
Born in 1890 in Shildon, he enlisted in the 2nd Battalion DLI in 1910 and was a player in the team that won the Army Football Cup in 1913. During the Great War, he served continuously from September 1914 to November 1918, first with 2 DLI as a Company Sergeant Major and, after 1917, as Regimental Sergeant Major of 19 DLI.
He was awarded the Military Medal for his bravery with 2 DLI in 1916 and the Distinguished Conduct Medal with 19 DLI in 1919 - "He has displayed great gallantry under fire, and his skill, initiative and gallant bearing have been a splendid example to all ranks".
After the war, he served with 1 DLI and at Fenham Barracks, before finally retiring in 1932.
Cis Mason died in 1962.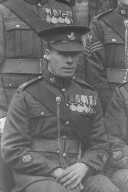 Return to DLI Collections home page.