Medal Collection
|
Surname Search
|
Surname A-Z
|
Men called Holborn
George Holborn
Biography | Medals | Glossary
Biography
Born in Sunderland in 1898, George Holburn enlisted in the 15th (Service) Battalion DLI in 1914. As a Sergeant, he was awarded the Distinguished Conduct Medal for his bravery on 7 November 1918 in the last battle fought by 15 DLI - "During the attack on Limont Fontaine, he displayed great gallantry and good leadership. When all the officers of his company had become casualties he re-organised his men and led them forward". (Captain Arthur Lascelles VC was killed in this action). Sergeant Holborn was also awarded the Military Medal in 1918.
After the war, he returned to work as a joiner in the shipyards. George Holburn died in1960.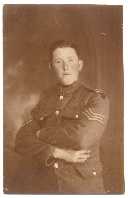 Return to DLI Collections home page.