Medal Collection
|
Surname Search
|
Surname A-Z
|
Men called Jeffreys
Peter John Jeffreys
Biography | Medals | Glossary
Biography
Born in 1909, he was commissioned as a Regular officer in the DLI 1929. In 1940 he served as Brigade Major of 151 Brigade during the Arras counter-attack. Later in the war, he commanded the 5th (West African) Brigade fighting in Burma and was awarded the Distinguished Service Order. In 1952, when the 1st Battalion DLI went to Korea, he was given command and quickly turned the mix of National Servicemen and Regulars into a "formidable fighting team".
Retiring in 1953, he took up farming, first in the New Forest and later near Wark in Northumberland.
Peter Jeffries died in April 2003, aged 93.
This photograph was taken in Korea in November 1952.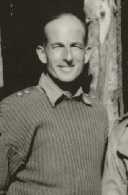 Return to DLI Collections home page.