Medal Collection
|
Surname Search
|
Surname A-Z
|
Men called Ward
James Ward
Biography | Medals | Glossary
Biography
Born in Ryhope, Sunderland in 1915, he joined the 2nd Battalion DLI in 1938 and served throughout the Second World War, seeing action at Dunkirk and in Burma.
As a machine gunner on Garrison Hill, during the Battle of Kohima, on 24 April 1944, he was awarded the Military Medal for being "an inspiration to all".
James Ward died in 2001, aged 86.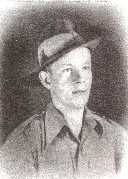 Return to DLI Collections home page.